Allihies loves to celebrate festivals and events for all the family, we have a number of events running throughout the year.
The Michael Dwyer festival is an annual traditional music festival in memory of renowned tin whistle & fiddle player Michael Dwyer, taking place in Allihies on the second weekend of June. It's in its nineteenth year and a massive success, sadly Michael has passed twenty years ago. The festival attracts many renowned musicians but also encourages musicians of all abilities to attend various workshops such as singing and Tin whistle workshops.
You should not miss this festival, dancing, 'ceol agus craic' and many friends to be made.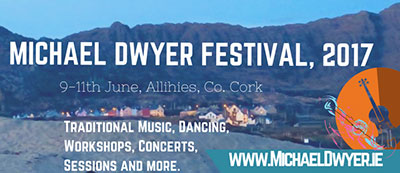 Michael Dwyer Festival
Heart of Allihies 5 mile run
The Heart of Allihies Five Mile run is going into its fourth year and occurs in June. The course is tough but manageable with absolutely stunning scenery. All of the money made on this event goes to the Allihies Community Centre . The course takes in the spectacular Wild Atlantic Way with some lovely country roads. It is open to all ages and can be walked . Details on how to register and other questions can be answered here.
Allihies Family Festival
The Allihies Family festival is normally held annually in August. This is a week long festival for all the family to enjoy. This is a fantastic festival that will appeal to all. From village markets and craft fair to sheepdog trials. There is lots of traditional music and dancing throughout the village during this time as well as guided walks. Concerts in the Copper Mine Museum, horse racing, beach parties, children's activities, the list goes on and on. Obviously not one to miss!
The Allihies Copper Mine Museum and the Community Hall have hosted many greats acts over the years from Sharon Shannon, Liam O'Maonlaoi to Rebecca Storm, be sure to check out our events calendar for upcoming gigs and concerts